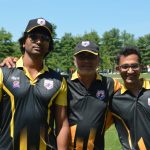 Owner's Profile:
Shaan Gujaran
Shaan has lived and studied both in US and India and has around 20 years of experience working for multiple investment banking firms in NYC. He has played cricket while studying engineering, technology, and management. He has captained the cricket team for one of the investment banks while living and working in NYC. Since moving to Westchester, NY in 2018, Shaan has continued to be actively involved in cricket by captaining, playing, managing, and providing strategic guidance for multiple local cricket leagues.
Vikas Agrawal
Dr. Vikas Agrawal has been practicing medicine in NYC since 2006. He did his residency in neurology and pain management at University of South Florida. He is a trustee of Ardsley school district and the Tristate Hindu temple in White Plains. He also serves as a board member on the Yonkers Health Advisory Committee. As the captain of the local cricket team, Vikas worked closely with Westchester officials to establish the first cricket field in the country.
Sanjeev Gupta
Dr. Sanjeev Gupta is a nephrologist and has been practicing for more than 8 years in Westchester Medical Center. He is also the captain of a local cricket team and manages a local cricket league called "All Stars Cricket League". He has played cricket in India while attending college and continues to captain and play cricket in NY.